Jonathan Maliepaard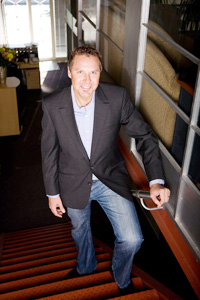 Either a technical entrepreneur or an entrepreneurial techie, Jonathan Maliepaard's track record seems to make the case for both.
Jonathan is the owner and managing director of eNetworks, the South African enterprise network services provider and ISP.
He founded and has since steered the 11-year old company to consistent double figure growth, seeing 67% growth in 2009, an impressive achievement in a depressed economy. He maintains that the key to the company's success is a relentless focus on offering excellent quality of service, high technical stability and skilled support staff.
Jonathan's career started at Dimension Data in the days of Novell, Arcnet and Ethernet. He later moved to Duxbury Networking in order to assist its transition from pure serial data comms to IP networking and routing. Here he had a hand in building the South African Internet Exchange (SAIX), which is the foundation of the Internet in South Africa. He also fell in love with Linux!
During a stint in hosting after founding Waterfront Web, which he still co-owns, Jonathan realised it was vital that the lessons learnt running an ISP needed to be applied to building and optimising corporate networks as well. He subsequently spun off eNetworks in 1999 to provide managed ISP and enterprise network services to companies in South Africa.
Apart from year-long sabbatical in 2003 to travel, Jonathan has been at the helm of eNetworks ever since. The company has a level 3 BBBEE status and its clients include ArcelorMittal, Ackermans, Protea Hotels, Habari Media, Mediterranean Shipping Company, Jeffares and Green Consulting Engineers and Edge Investments, amongst others.
Jaap Scholten is a director at eNetworks, the enterprise network services provider, where he looks after new business development and putting together the best technical solutions to meet clients' specific requirements.
Jaap has more than 20 years of experience in computer networking industry, starting his career back in the days of Arcnet. An electrical engineering graduate from the Cape University of Technology, Jaap had a brief stint in broadcasting before working for Rio Tinto as a network engineer in the 1980s.
He then joined Dimension Data from 1989 to 1994 as technical manager, working primarily on WAN technologies at the time of Cisco's arrival in South Africa.
After various ventures as an entrepreneur, Jaap joined Dockside Internet in 1997, working in Cape Town, London and Amsterdam. After a short sabbatical, he assisted in running web development company Entelligence, whereafter he joined ex-colleague and long-standing friend Jonathan Maliepaard as a director of eNetworks in 2002.
eNetworks an active member of ISPA and Jaap is currently a member of the management committee.
Dumisa Melane is a director at eNetworks, the enterprise network services provider and ISP. At eNetworks, Dumisa provides the interface between customers, suppliers, the technical team and finance and admin. She is passionate about customer care and works to ensure that eNetworks lives up to its promise to give customers the best service in the industry.
Dumisa joined the 11-year-old company in 2001 and throughout her tenure has gained wide-ranging experience across the company including: admin, finance, managing staff, organisational development and training, customer relations and service, IT project management and key account management.
Dumisa has a diploma in management and additional qualifications in accounting and credit control. She is a member of the BWASA (Business Women's Association of South Africa.) and active in the Women in ICT space in Cape Town.